Hello all, I've just been having a look at my website and again it is very out of date… EEKK, 🙁
Current news to report, well its all go, 😉 I had a great trip driving around Europe, we visited quite a few Countries (more than the original proposal) and covered 5,500 Miles… When I have some time I will be uploading all the images from the Road Trip and from my University years.
I have more good news too, 🙂 whilst in Italy I found out my University Results for my final year, I managed to get a Upper Second Class Degree with Honours in BSc Computer Science at Coventry University… I found this out on my wonderful MDA Vario II, 😉
Before my exams I had a rather lame operation, which made finishing my Dissertation and Studying for my exams abit exciting lol… I had a Hernia, I'm sure that stemmed from Mr Boardman getting me to do all that sport in High School, so if your reading this its YOUR fault, 😉 lol… Not really, I loved every minute of High School taking part in sport and that is one thing I really miss, in the next couple of weeks I am going to be taking up swimming for some light exercise, yippy! 🙂
What else has happened recently… HHHMMM! I have also transferred back to my old location where I started work, so I'm back at Marks & Spencer Merry Hill working part-time until I find a suitable 'REAL' job where I can actually use my brain and some of the skills I have learnt in the past couple of years!
New Hobbie…! I am in the process of looking to buy a CamperVan, not a new one, but I'd like to purchase a 70's VW Van and restore/modify it to my specification, this would be my little hobby and maybe a bit of an investment. 🙂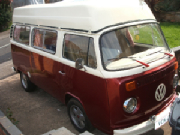 *MEEP* *MEEP*
Thats all for now, more news soon, 🙂